The 7 Best Hearing Aids of 2020
Updated December 2020
2020 has been an innovative and busy year in the hearing market.
Despite COVID-19 restriction, most leading manufacturers launched exciting new hearing aid families, with ground-breaking features, advanced Tele-Audiology capability and most importantly, crystal clear hearing and easy-to-use features delivering hearing and communication benefits for those with hearing loss.
All of these new hearing aids are designed to provide superior sound quality and better speech understanding in background noise, and seamlessly fit into your lifestyle. It is, however, the specific and unique features, along with propriety hearing technologies that set these hearing aid models apart from both older hearing aid models and the competition.
Contact HEARING SAVERS on ☎ 1800 00 4237 to find out more about the latest hearing technology, and save $000s on your new hearing aids.
---
These are our stand-outs
---
Phonak Paradise
There's nothing like the sound of Paradise
Building on the worldwide success of Marvel, Phonak's next generation sound chip PRISM™ in Paradise hearing aids boasts enhanced processing power and twice the memory of its predecessor.
Launched in August 2020, Phonak Paradise offers a host of newly developed features including personalised noise cancelling, motion sensors, tap control and multiple concurrent Bluetooth® connections.
Best in class connectivity
Connect to smartphone, TV and more — Phonak Paradise connects directly to your iOS®, Android™ or other Bluetooth®-enabled devices so you can stream audio in excellent quality directly to your hearing aids.
Plus, as an added convenience, you can simultaneously connect to two Bluetooth devices and seamlessly alternate between the two.
Roger Direct capability
Phonak Paradise hearing aids feature RogerDirect™ which allows the Roger microphones to stream directly to Paradise hearing aids without having to attach an external receiver. With this unique innovation, you can fully participate in conversations even in very noisy environments such as restaurants, meetings at work and school activities.
Find out More
---
Widex MOMENT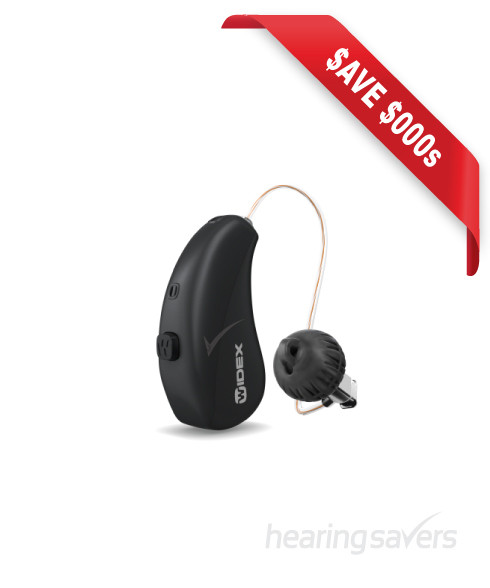 A more natural sound experience
Widex MOMENT hearing aids break new ground by addressing one of the great unsolved challenges – no matter how good the sound, it still sounds like a hearing aid. An industry first, MOMENT eliminates that 'out of sync' sound with two distinct signal pathways, with significantly different in processing speed and sound design.
The smallest rechargeable hearing aid
Although the Widex MOMENT mRIC model is the market's smallest rechargeable receiver-in-canal (RIC) hearing aid, there is no compromise on power you need to hear every moment. No struggling with hearing aid batteries - just a slim, simple charger that fits your life.
See the Range
---
Don't miss out on specials... sign up today!
We promise not to spam you. We also hate spam!
---
Signia Styletto X
A new era in wearability
Signia Styletto X is highly sophisticated hearwear that looks as good as it sounds. Its iconic design transforms the outdated image of hearing aids and introduces a new era of wearability that perfectly matches your lifestyle.
Hear what matters to you
Unique acoustic-motion sensors allow Styletto X to optimise your hearing to every situation so you can hear what matters. Whether you're out running, in a bustling shop or restaurant, or relaxing at home.
Personal support at your fingertips
Thanks to Signia's TeleCare remote support, you can get direct help from your Audiologist at HEARING SAVERS via the Signia app on your smartphone... wherever you are. You can control the volume and other program settings discreetly via the Signia app
See the Range
---
Oticon Ruby
Feature rich at a very attractive price
Oticon Ruby offers a combination of technologies usually reserved for top-end models: reliable contact-free rechargeability, great sound quality and performance. Ruby features an enhanced feedback management system and outstanding wireless connectivity thanks to 2.4GHz Bluetooth low energy technology.
Prevent whistling before it occurs
Avoid those annoying and embarrassing situations! Oticon Ruby 1's new SuperShield feedback management system prevents whistling before it occurs to improve sound quality and deliver a seamless hearing aid experience.
Read More
---
Phonak Lyric 4
A natural listening experience
While traditional hearing aids capture and process sound outside of the ear, Lyric uses the natural anatomy of the ear to amplify and give you a full, natural listening experience. And because Lyric is placed near the eardrum, it is the world's only 100% invisible hearing aid.
Lyric is purchased on a subscription
Unlike traditional hearing solutions, you don't actually purchase Lyric hearing aids. Instead, they are delivered on an annual subscription basis which removes the hassles of hearing aid ownership.
Discover Lyric
---
Phonak Marvel Black
A modern day hearable
Phonak Virto Black is a fully-connected in-the-ear custom hearing aid that combines breakthrough Marvel hearing technology with the style of a modern hearable.
First custom hearing with direct sound streaming
Virto Black is Phonak's first custom-made hearing aid with the benefits of Marvel technology, including universal Bluetooth streaming, hands-free phone calls, and a personalised hearing experience via the myPhonak app.
Find Out More
---
Starkey Livio AI Edge
Game changing sound with Edge Mode
With Starkey Livio Edge AI, the power of artificial intelligence (AI) is at your fingertips, giving you next generation sound performance in the most challenging listening environments. AI technology makes getting help in the most difficult listening environments easy, with just a tap.
World's first custom rechargeable
Custom means the hearing aid is custom moulded to fit your unique ear canal comfortably and securely. Starkey's new charger fits all custom hearing aids and provides up to 24 hours of power in a single charge.
Read More
---
SAVE more than your hearing
Contact HEARING SAVERS on ☎ 1800 00 4237 to find out more about the latest hearing technology, and save $000s on your new hearing aids.