HEARING SAVERS Reviews
See our 5-Star Reviews
Join thousands of delighted customers across Australia
Reviews by our Delighted Clients
Dear Adrienne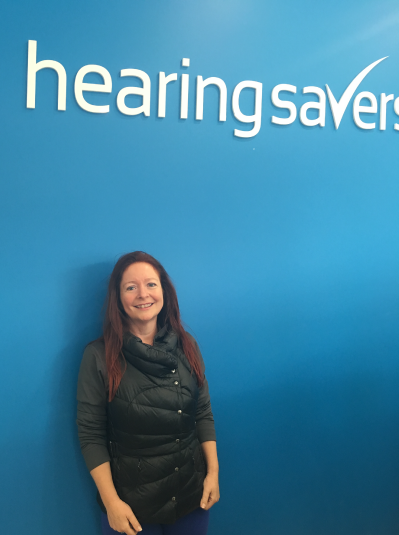 First of all a huge thank you for going with the more powerful aid. Also for taking time out on a Saturday to organise the hearing aids set up.
I called ten people who I have been SMSing all year because it was easier. Two close friends stated they noticed I wasn't straining to hear. I understood a telemarketer call, hearing the company name and what they were trying to sell. Normally I can't understand them they usually hang up!
TV streamer worked with the DVD player. When I am not tired, I think now I can enjoy a non-subtitled DVD movie (there are lots of DVDs in the marketplace without subtitles).
Face to face communication was clear with familiar voices. Trying strangers tomorrow. Songs picking up a lot more words. Some are a little muddled however much, much better.
Lastly I have been in management the last sixteen years. I know it's hard to get good staff! Both ladies in Malvern and Bentleigh provided excellent customer service :)
---
Dealing with hearing loss can be a confronting scenario and I had put off for quite sometime seeking assistance.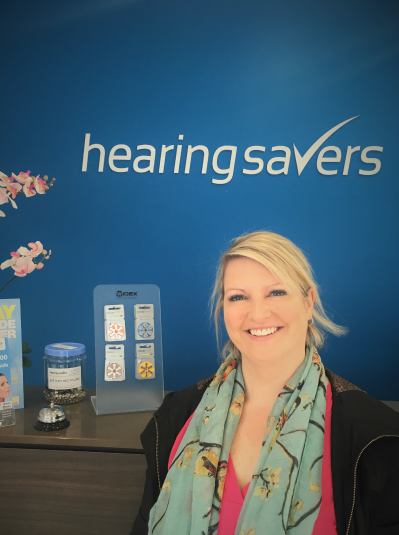 I really wish I hadn't waited so long and found HEARING SAVERS earlier.
I cannot speak highly enough of the team, they really have made the whole experience an empowering one. I researched my chosen hearing aids and found HEARING SAVERS by far the best in price and have been so impressed with the level of support and customer service.
A sincere thank you to everyone at HEARING SAVERS and I would not hesitate to recommend HEARING SAVERS.
---
Erin,
Now that I have had my Oticon OPNs for 6 weeks I would like to provide HEARING SAVERS with some feedback.
The service I have received from HEARING SAVERS was excellent from the first viewing of the website, to initial contact right through to the final sale. The website is well laid out and easy to use. HEARING SAVERS were very helpful from the first time I contacted them and the subsequent correspondence was prompt and professional. Your partner clinic in Sydney were brilliant and the service was once again excellent.
The Oticon OPN hearing aids are brilliant. They have made life so much easier for me. They produce a much better and clearer signal and as such I take more information in. The additional functions of Bluetooth and Streaming from the TV are invaluable and once you have them you won't go back. The App control from the iPhone is a very useful addition and I use it daily. The battery life is around 5 days, which is a little low but as I use Bluetooth and streaming daily I figure this is an acceptable trade off.
Thanks again for all your assistance it was appreciated.
---
---
As a first time user of hearing aids I was really impressed with the service and help I received from HEARING SAVERS. In fact all the staff I have spoken to from my first contact with HEARING SAVERS have been friendly.
Because I am younger than most people getting aids, I didn't know anyone I could ask about aids in my community so I did some research online to prepare and then the Audiologist was able to discuss my options and show me the different advantages and qualities of the different products I was interested in, which helped me make an informed decision.
He introduced me to the world of hearing aids by setting up 2 consecutive appointments to allow me time to adjust to the aids. He helped me understand what I should be noticing and how to work out what worked best for me when tuning the aids. The first week I wore them was life changing and it surprised me how much I had been missing!
The Audiologist is very knowledgeable and up to date with the latest technology. He is also warm and helpful, he has a really practical approach which I liked and made the whole experience less daunting as I was still getting used to the idea that I needed aids! I have been back to fine tune things a couple of times and he is always friendly and engaging.
I am really happy with the aids I have chosen and I look forward to working with HEARING SAVERS for many years to come. Not only are they highly skilled professionals, they are genuinely nice people and knowing that this is such an important investment I felt I could trust HEARING SAVERS to provide the best advice for me personally.
---
Adrienne: Andrew, you've recently been fitted have new Oticon OPN hearing aids – tell me about your experience with them.
Andrew: Well, I've been very impressed. I was a bit skeptical before I first got them as you know, and a bit hesitant, but I'm very happy that I got them – they are very impressive. I read some background information on different brands and with this particular one they talked about how it scans 360 degrees, and I've been in a few situations – in restaurants and where various people are behind me, in front of me, the side of me – and I've been able to hear well the people that I want to hear. You do hear some background noise, but somehow the combination of the hearing aids and I suppose the brain seems to be able to focus on the people you want to hear whereas prior to having them, that was why I came, if I was in a situation where there is noise, that was it - I didn't really hear a lot of what was going on. So I'm very impressed and I highly recommend them to anybody.
Adrienne: And how did you get to HEARING SAVERS?
Andrew: I was recommended by somebody I know and I've been very very happy. Adrienne has been terrific, and nothing is too much trouble, and they answer all the questions and I'm very happy that I ended up here.
Adrienne: And did you go anywhere else prior?
Andrew: No, I hadn't been anywhere else. I'd asked around and HEARING SAVERS was recommended and I'd highly recommend them to anyone.
Adrienne: And what made you decide on getting hearing aids? Because this was your first test, wasn't it?
Andrew: Yes, I decided because I was struggling to hear in certain situations. It's been going on –I can't remember exactly – probably a year and a half, and you get to a point where you realise you're missing out on conversations. You answer yes, yes and nod and you don't really know what you're answering yes to. Whereas now, most of the time - or 99% of the time- I do. And the interesting thing is too when I take them out at night, I was telling Adrienne that the minute I take them out I feel like I'm deaf - I feel like my ears have been filled with water and it's instant, the second they come out, which is obviously because I'm not hearing nearly as well as when they're in. So I'm very impressed and I'd highly recommend them and I'd recommend Adrienne and HEARING SAVERS – they're terrific.
Adrienne: Thanks Andrew!
Andrew: It's a pleasure.
---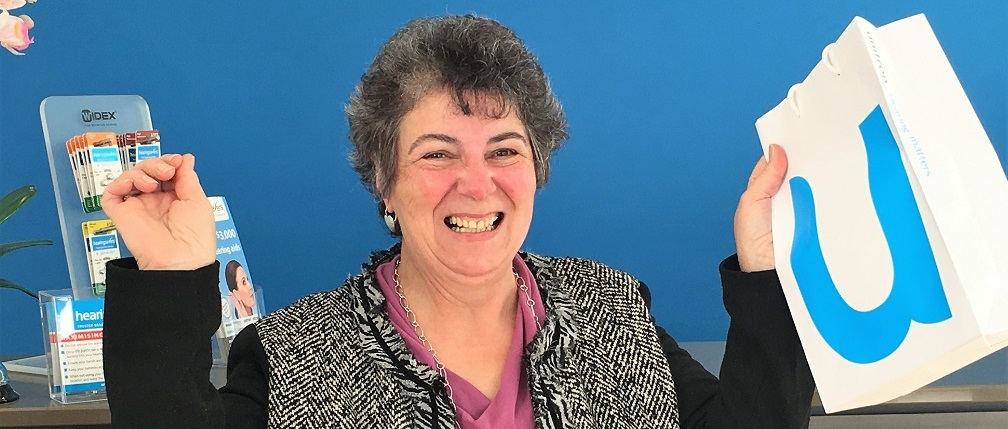 The sound of her grandchildren's laughter has never sounded sweeter to Narracun farmer Liz Pisa, since winning a new set of hearing aids from discount hearing provider, HEARING SAVERS.
Liz says her new Unitron hearing aids have improved her quality of life enormously.
"Babysitting my grandchildren means so much to me but it was getting to the stage where I couldn't do it because I couldn't hear them cry out and call for me," Liz said.
"It was a real problem, but thanks to my new hearing aids I'm babysitting them far more than I used to," she said. "Music also sounds wonderful again, whereas before the new hearing aids it was just a reverberating noise."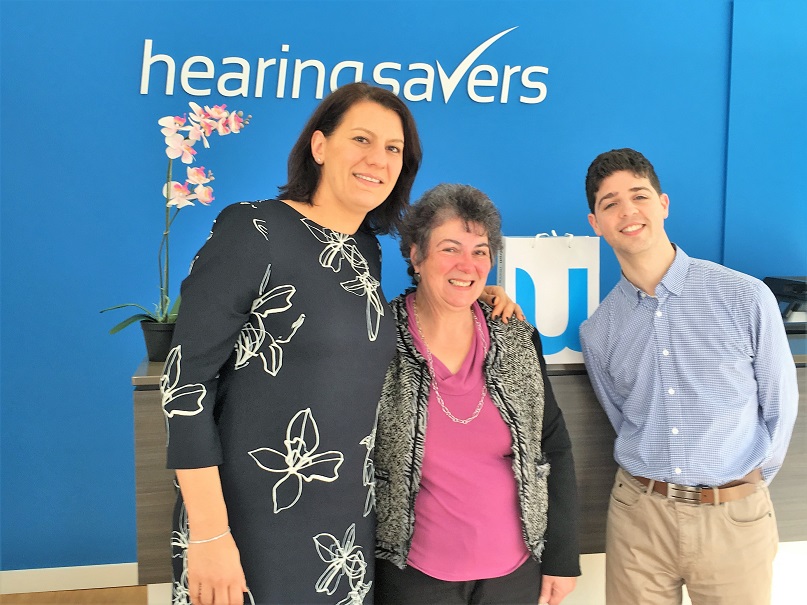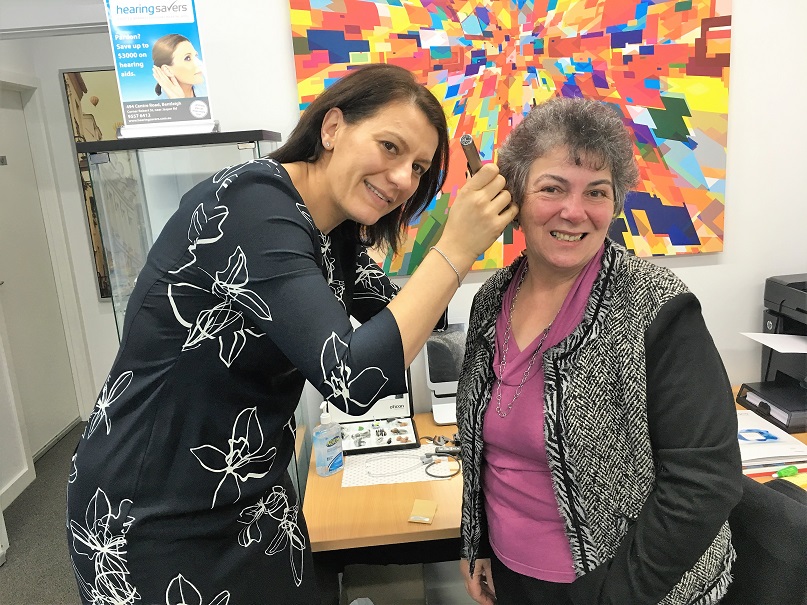 Custom fitting Liz's new Unitron Moxi Fit R-600 rechargeable hearing aids, replacing her 10-year old model
To win her new hearing aids all Liz had to do was trial them for a week from discounted hearing aid provider, HEARING SAVERS. She was the lucky winner among many worthy entrants keen to get their hands on a free pair of rechargeable hearing aids in a competition that was an Australian first. One of the most advanced hearing aids on the market, they're exceptional value for $3,900 and have improved the lives of many thousands of people like Liz.
"Right from the start they were great, with HEARING SAVERS Audiologists, really listening carefully to what I needed when fitting them," Liz said.
"I could use the new aids on the phone so easily. With the old ones, which I'd had for over 10 years, I was always removing them because of the annoying whistling."
"After a week I really didn't want to give them back, so I was totally over the moon when I won them!" she said.
Liz grew up on a farm and left school early to work on farms and market gardens. Today she grows potatoes, while her husband farms beef cattle in Narracun, near Trafalgar West Gippsland.
She's far from the only farmer suffering from hearing loss. In her case a possible genetic condition was made worse by working close to loud carrot cleaning machines.
"For many older farmers hearing loss is a sad fact of life after years spent working on noisy machinery without hearing protection," said Hearing Savers Principal Audiologist, Adrienne Blechman.
"But the good news is that they don't have to put up with it," Ms Blechman said.
"Modern hearing aids like the Unitron Moxi can compensate for that hearing loss and greatly improve their quality of life," she said.
---