Battery Safety and Children
Secure your hearing aid batteries
When swallowed, small coin-sized lithium button batteries can get stuck in a child's throat and cause severe burns or death. In a joint safety campaign, Energizer, Kidsafe, and the Australian Competition and Consumer Commission (ACCC) warn parents about the dangers of small coin-sized lithium button batteries.

The Battery Controlled campaign has identified that about 8% of injuries caused by children under the age of four swallowing batteries involve batteries associated with hearing aids.

Injury reports indicate that in most instances where children swallow batteries associated with hearing aids, the children have removed the battery unnoticed or their carers have left the battery unsecured without recognising the significant danger it poses to young children. This danger is heightened in situations where it is unusual to have young children around where these batteries are being used and awareness of the problem is low.

About 7% of injuries in children under that age of four are associated with batteries obtained from toys. Other major sources of button batteries are remote controls, musical greeting cards and disposable novelty items.
What happens when a battery is swallowed
If a child swallows a button battery, the battery can get stuck in the child's throat and burn through the oesophagus in as little as two hours. Treatment can require feeding and breathing tubes and multiple surgeries.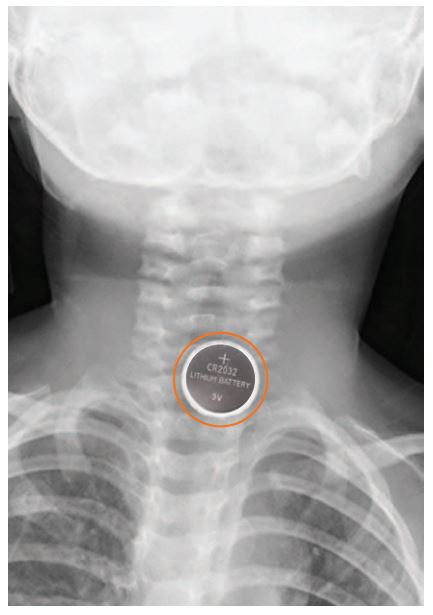 Children under five years old are at the greatest risk. In Australia, two children have died from button battery related injuries, and an estimated 20 children per week present to an emergency department to remove or treat a swallowed or inserted button battery.
Safety tips
Keep batteries and hearing aids out of sight and out of reach.
Examine hearing aids and other devices and make sure the battery compartment is secure.
Dispose of used batteries immediately. Flat batteries can still be dangerous.
If you suspect a child has swallowed a battery, immediately go to a hospital emergency room. Do not let the child eat or drink and do not induce vomiting.
Call the Poisons Information Centre on 13 11 26 for additional treatment information.
Tell others about the risk associated with button batteries and how to keep their children safe.
Sources: